No Turning Back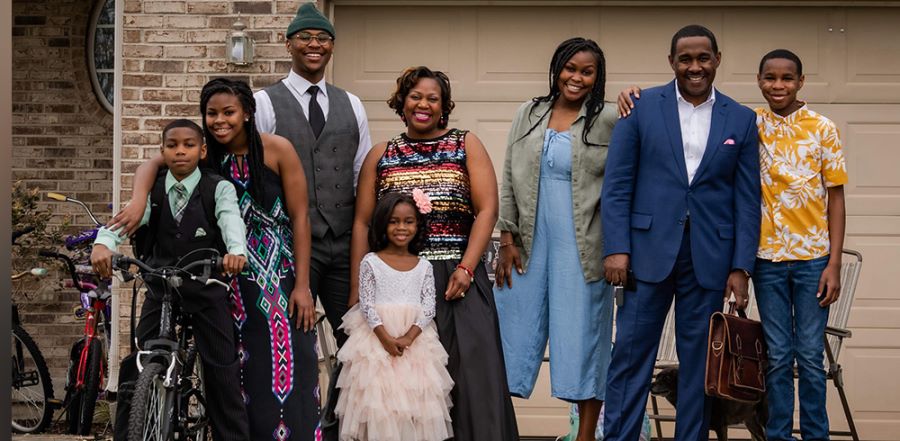 Don't miss any stories. Follow AG News!
As a 12-year-old boy growing up poor in inner-city Milwaukee, Warren G. Curry Jr. took notice when his father's life radically changed upon converting to Christianity. For the next decade, Warren Curry Sr. continually shared with his son how Jesus could reform his life, too.
But Warren Jr. showed more curiosity about rebelling than seeking the Lord. He found selling marijuana and cocaine alluring during his teenage years. The party lifestyle dominated as Curry flunked out of Grambling State University in Louisiana.
By 1997, at the age of 22, Curry's future looked bleak. His girlfriend from college informed him that she was pregnant. Soon afterward, Curry sat behind bars, facing a 42-month sentence for possession of cocaine with intent to deliver.
"When I was in that jail cell and I began to realize I had made a huge mess of my life, my dad's words began to play in my head, almost like a tape recorder," Curry recalls. "I thought I'd give this Jesus a try, and if it didn't work out, I could always go back to what I had been doing."
Curry hasn't gone back.
While incarcerated, Curry experienced his own Christian transformation. He received the baptism in the Holy Spirit, was water baptized, and called into ministry. Upon his release in 1999 after serving 20 months, Curry acquired a new outlook on life and he began attending a Pentecostal church with his father in Milwaukee.
It took a while longer to regain the trust of his girlfriend, Tiara, who had given birth to their son, Caleb, with Curry locked up. But after Tiara saw Curry submitting to being discipled by church leaders, she and her family came around. The couple married in 2001 — and now have six children.
In 2006, Curry says the Lord told him in a dream that he would move to Cincinnati to plant a church. The dream shocked Curry because he didn't know a single person in Ohio. Six months later, Curry had another dream, identical on two consecutive nights. Both featured him helping two Caucasian pastors taking rolls of sod off a truck and unfurling multicolored grass. He says the Lord provided the interpretation that these represented planting multiethnic churches.
By 2007, although already ordained as an independent Pentecostal minister, Curry says he heard another summons from the Lord: affiliate with the Assemblies of God. He began attending Parklawn Assembly of God in Milwaukee. Six months later, under the tutelage of pastor Walter F. Harvey, Curry became youth and young adult pastor at Parklawn. There, he had numerous opportunities to teach in the church, to engage with community leaders, and to disciple prisoners — all of which Harvey says Curry handled with expertise. Harvey, who now is president of the AG's National Black Fellowship, helped Curry obtain a governor's pardon for his crimes so that pastoral work would be easier.
"I saw myself in Warren: a young man crying out for a spiritual father and mentor," says Harvey, 60. "I saw tremendous potential within Warren. He has wonderful character. He has a tremendous ability to communicate the gospel of Christ clearly and powerfully. He also has a passion for discipleship."
CINCINNATI MINISTRY
In 2009, Curry moved to the Cincinnati area and soon met Randy D. Rice, lead pastor at LifeChurch West Chester, and Joshua Wotawa, then associate pastor. Curry recognized the two AG pastors as the men from his dream three years earlier.
Rice, who started LifeChurch 15 years ago, quickly befriended the Milwaukee native.
"Based on his character, it was easy to discern that God wanted me to come alongside Warren and encourage him in his vision and his calling to plant a church," says Rice, 57.
Rice picked Curry as his associate pastor and, after a rigorous internship, in 2011 sent him to start Life Changers Church International, a congregation in Fairfield, 10 miles west of West Chester. The congregations remain in a parent-affiliate relationship.

Curry has replicated efforts Rice taught him, raising up pastors from the congregation, most recently Kevin M. Eckhart, who last year launched Living Waters Assembly of God in New London, Wisconsin. Curry also now serves as a Church Multiplication Network at Launch training events.
As a pastor, Curry initially focused on breaking down racial barriers and injustice. Life Changers is about 60 percent African American.
"The Lord was very specific in telling us to build a multiethnic church community from the onset," says Curry, 45. "We know heaven won't be segregated."
Curry contends that each ethnicity has something unique to offer that other groups don't possess. He has been intentional about blending everything from music preferences to leadership structure at the church.
"God has given a grace to each ethnic group," Curry says. "If we separate from each other, we cannot experience the full blessing that God has for us."
Recently, in the wake of George Floyd's death, Curry had the opportunity to share sermon talking points with white pastors across the Ohio Ministry Network.
Curry is grateful for the reconciliation efforts demonstrated among Life Changers attendees, who run the gamut of economic classes: from corporate executives to those barely surviving on government assistance programs.
Curry has been able to bridge those gaps by connecting church attendees through social media, long before such methods gained popularity. That strategy proved prescient when church services had to be suspended for over three months this year because of the novel coronavirus.
"Services online have worked well for us for years," says Curry, who is enrolled in an online master's program at the AG's Northwest University in Kirkland, Washington. "So when the pandemic hit, it was not a culture shock, just a pivot." During the shutdown, Curry preached from his church office via streaming on YouTube and two Facebook sites. The church expanded its reach during the lockdown, with viewers tuning in from as far away as India.
As he reflects on his life transformation, Curry says he has been inspired most by the influence of his father. Warren Sr., 68, now attends the church where his son is pastor.
"Without his evangelistic efforts in my life early on — his relentless pursuit of my soul — there is no telling where I would be," Curry says.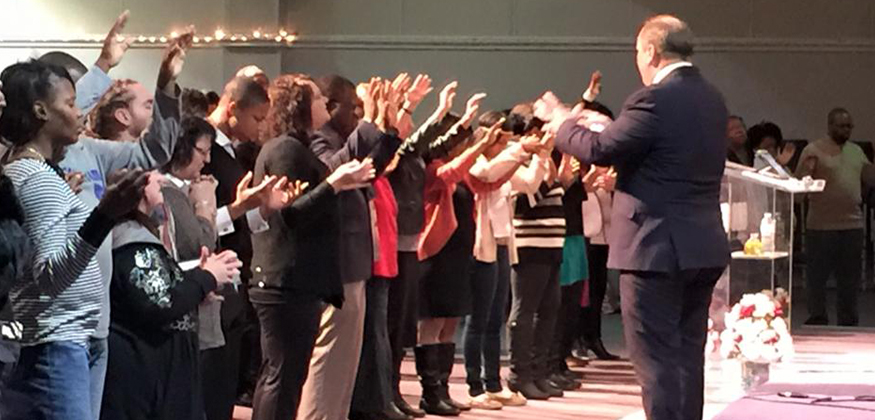 Lead Photo: The Curry family members are (from left) Jonathan, Ramiah, Caleb, Zion, Tiara, Rachel, Warren, and Joshua.
Bottom Photo: Randy Rice preaches at Life changers Church International.