Picking Up the Gospel Shoes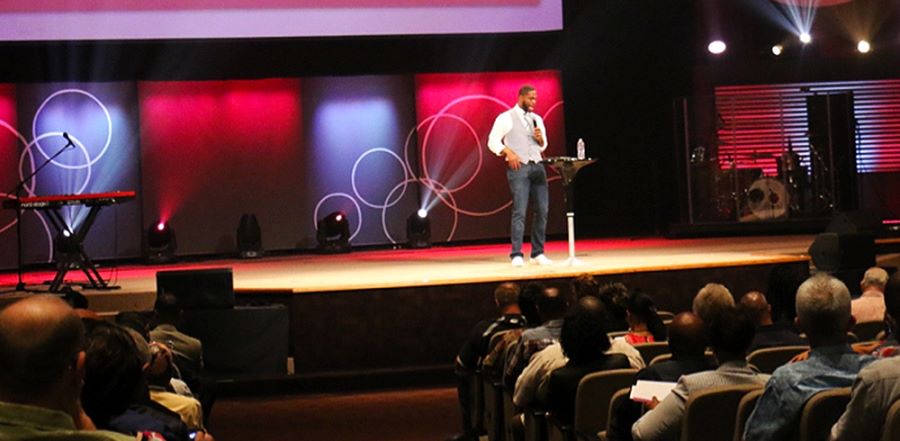 Don't miss any stories. Follow AG News!
Assemblies of God evangelist Will T. Jones, the founder of Awakening Ministries International (AMI), is familiar with athletic success. He also knows about deep hurts. Serving as staff evangelist at People's Church in Oklahoma City, and continuing his ministry around the world, Jones seeks to proclaim the experiential truth of Christ and to help set hurting people free from bondage.
He carries such a burden because he remembers his own days of pain.
"Once a beggar, I now hope to lead other beggars to the bread," Jones says.
Zollie L. Smith Jr., executive director of Assemblies of God U.S. Missions, believes Jones is making that happen locally and globally.
"Will Jones has committed himself to God's strategic plan of salvation by compassionately making sure that everyone has an encounter with Jesus," Smith says.
Jones is passionate as he thinks back to his life of pain before Christ. He remembers growing up without a good father figure and seeing so many others choose violence, sex, and money over faith. Jones remembers the profound pain caused by his best friend's death due to a birth defect.
"We played basketball together and were not following the Lord," he says. "The last evening I saw him, he passed away in my hands. I'll never forget it."
The grief of his friend's death impacted him deeply, and led him to accept Jesus as his Savior. Jones wanted to be sure he would spend eternity in heaven, and he wanted many others to join him there. The pain gave him a heart of compassion.
Jones, who stands 6 feet, 4 inches-tall, pursued success in basketball, playing two years at an Illinois community college before finishing at a private school in Indiana. During 2010–11, he pursued playing pro basketball in Europe, landing in Belgium, where the opportunity to negotiate a contract for the following season appeared promising. He received invitations to NBA camps of the Phoenix Suns and Milwaukee Bucks.
But Jones sensed a more pressing invitation — from the Lord.
"I came to a crossroads of playing or preaching," Jones says. "This was all new to me, but I knew that God could use me in a much greater way if I yielded to His dream for me rather than continued to pursue mine. So, I laid down the hoop sneakers and picked up the gospel shoes."
Those shoes are taking Jones many places where people can hear the good news. He and his wife, Jennifer, who have been married for four years, met while he served with a sports ministry on a mission trip to Moldova.
Walter Harvey, lead pastor of Parklawn Assembly of God in Milwaukee, serves as a board member for AMI and traveled with Jones to Nigeria in June.
"Will has a genuine passion for lost souls that is fueled from his prayer life," Harvey says. "He has a passion to reach souls, from the down and out to the up and out."
Jones, 29, hopes to merge older and younger generations in his ministry. He seeks to connect with older leaders who have a tendency to hold on to power and control too long. He also strives to interact with younger leaders who are inclined to rely too much on technology and can thus be unteachable.
Seeing people who live in captivity and bondage, struggling with addictions, and feeling they will never find freedom, Jones longs to fulfill Christ's commission, connecting communities and churches together to reach people.