Reaching Millennials and Gen Xers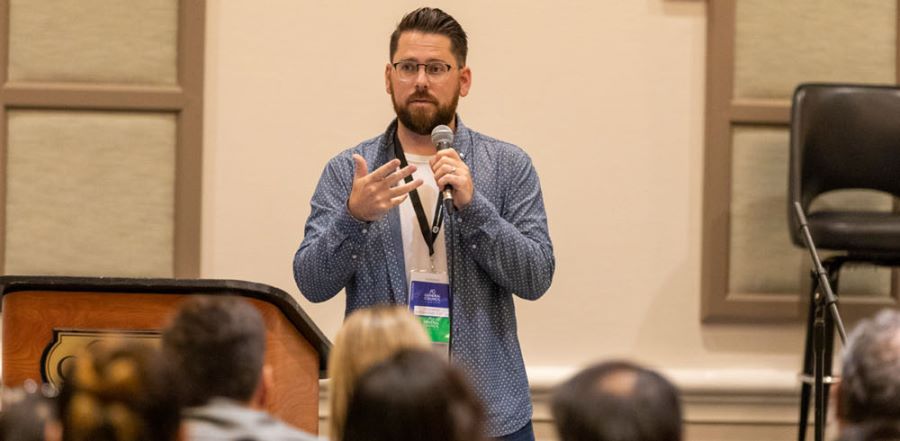 Don't miss any stories. Follow AG News!
ORLANDO, Florida — Reaching millennials and Generation Xers should be a priority for congregations because if these two age groups continue to stay away in droves, the Church faces a bleak future, according to Preston T. Ulmer, the recently appointed
Church Multiplication Network
director of network development.
Ulmer spoke to a crowd of around 125 — more than one-third of them baby boomers (those born between 1946-64) — as the
Influence conference
continued July 31 in advance of General Council, the biennial gathering of the U.S. Assemblies of God.
In a good-natured and humorous presentation, Ulmer, 32, examined reasons why Gen Xers (born 1965-80) and especially millennials (born 1981-97) are increasingly counted among the "nones," those showing no interest in religion.
"Why is the most cause-oriented generation not connected to the most cause-oriented organization in the world — the Church?" asked Ulmer, who wore blue jeans and sipped an iced coffee. In 2017, Ulmer became part of the CMN
field-based team
, traveling to AG colleges and universities to develop the next generation of church planters.
Many millennials and Gen Xers believe church leadership is missing authenticity and vulnerability, two attributes they prize, he said. They don't want to go to a church where they think leaders and congregants are concealing the difficulties of life.
Church causes don't necessarily align with their passions, Ulmer reported, although there are some biblical mandates that resonate, such as care for the poor and orphans. Younger people are looking for a church where they can ask tough questions and not be judged. They also don't want to be mocked for initiatives they support, such as environmentalism.
Ulmer has some experience in dealing with young, disaffected people. He planted
Discover Church
in Denver in 2016. At the same time, Ulmer founded a ministry called
The Doubter's Club
, which encourages those who question God to
engage with a Christian
in a respectful, friendly dialogue in pursuit of truth.
AG churches that are growing the most are those that see the potential of young adults, according to Ulmer, who earned his Master of Divinity from
Southwestern Assemblies of God University
. He urged ministry leaders to start "disproportionately prioritizing" young people, from hiring staff their age to understanding their mindset when preaching. He urged listeners to understand obtaining a commitment from millennials is a process. Pastors should be interested in trying to convince them to return the next Sunday more than extracting a salvation decision, he said.
Ulmer encouraged ministry leaders to make a commitment to invest in the life of a millennial, even if the person doesn't agree to attend church; to share life together, by meeting together regularly, perhaps at a coffee shop; and to initiate conversations that matter, probing why he or she doesn't believe in God.