Refugee Lifeline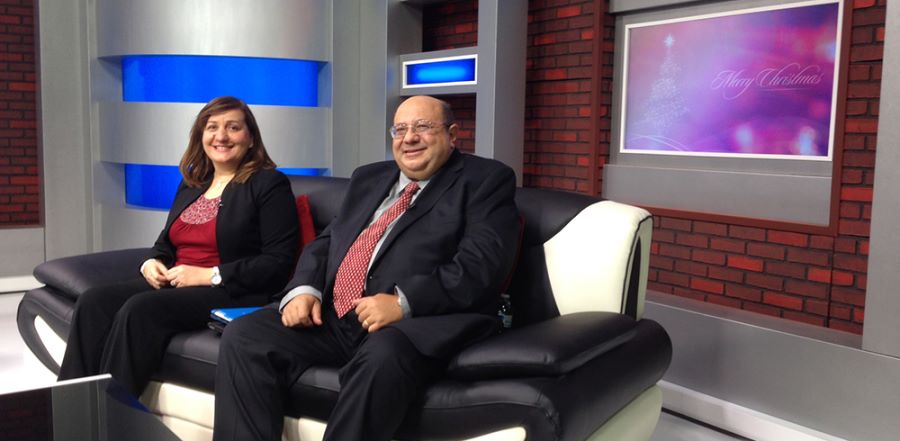 Don't miss any stories. Follow AG News!
In a desperate plea for help, a Syrian family fleeing from ISIS persecution placed a call across the world to an Assemblies of God Intercultural U.S. missionary in California.
"We are making our last phone call and we don't know if we will make it or not," Alex Hanna recalls the family saying. "Will you pray for us to give our lives to the Lord?"
The refugees learned about God through Alex and Samia Hanna's television broadcasts in Arabic that reaches 98 percent of the globe. People tune in to hear the gospel and are urged to call day or night for prayer.
The call from the Syrian refugees is one of over 1,500 phone calls, texts, and emails the Hannas receive in a given week. Especially in countries where destruction and death are running rampant, he says people are searching for the kind of peace only God can give.
"We give hope, and people are delivered from the hand of their enemy in a supernatural way," Alex Hanna says. "There is a tremendous need right now. We are in the middle of a great harvest."
Alex and Samia Hanna serve as U.S. Assemblies of God missionaries to Arabs from their home in California. They began the television broadcast 10 years ago hoping to reach places where churches are rare with the exception of small gatherings in homes. They preach from Scripture on topics such as surviving spiritual warfare, having hope in times of distress, and accepting Jesus as Savior.
The Hannas immigrated to the United States in 1991 with their twin girls after living in Egypt, where they both were raised as Christians.
Alex Hanna, 58, was a physician in Egypt and had a practice in a rural part of the country. He prayed for each patient to receive divine healing and says he saw many delivered from cancer and disease. 
Samia Hanna, 52, is a dentist, but said she always felt a call to be a missionary since she was a little girl.
Alex Hanna says he felt called to move to the United States so he could better minister to the Arab world. He became an ordained AG minister in 2002. He also was part of the group who formed the Arabic Assemblies of God Fellowship, and serves as its vice president.
The Hannas return to Egypt every year for prayer revival, where they see hundreds of young Arabs dedicate their lives to God.
He says he receives testimonies of divine healing every week from people around the world.
Samia Hanna, an ordained AG minister, says God has used the ministry to bring hope to thousands of refugees and persecuted people around the world.
"When they call us, they only have electricity very few hours of the day, they tell us that during those hours, the only comfort is when they turn on the TV and watch the Christian programs," she says. "They know they are not forgotten, and that other believers care."
"When they pray in faith with us, they experience miracles," Alex Hanna says.
George Rafidi, president of the Arabic Assemblies of God Fellowship, says the unique ministry the Hannas provide fills a need.
"They have a great ministry of praying for people for healing, and the Lord is using them to reach people in the Middle East," he says. "But it takse a long time to receive fruit and see results."
Rafidi says the Arabs he ministers to need hope, the kind that comes from Jesus.
The Hannas are preaching that hope, Rafidi says, and living out the gospel.
"Alex gets calls from all over the world," he says. "He just wants to minister."
Hanna says a woman called from the Middle East asking to for prayer to restore her vision and a path for her to leave her home country after her three brothers were killed for their faith.
They two prayed together, and Hanna says the woman believed God would answer her prayer.
The woman called Hanna months later. Hanna recalls her sharing, "I arrived in the United States, I can see now. I came here to be a witness to God, who saved me from persecution and restored my vision."
The Hannas also broadcast their shows in the United States, where many immigrants are able to hear the gospel in their native language.
A Syrian endocrinologist living in Indiana asked the Hannas to pray after he developed severe abdominal pain. X-rays indicated he would need surgery.
"I was so scared and cried to Jesus," the doctor wrote to the Hannas.
After praying for healing, the physician called the next day and said the obstruction had disappeared.
"Thank the Lord Jesus when the surgeon examined me he told me there was no obstruction. Jesus resolved the obstruction with his healing hand," the endocrinologist in Indiana wrote to the Hannas. "Jesus is my doctor and my healer forever."