Room for Two More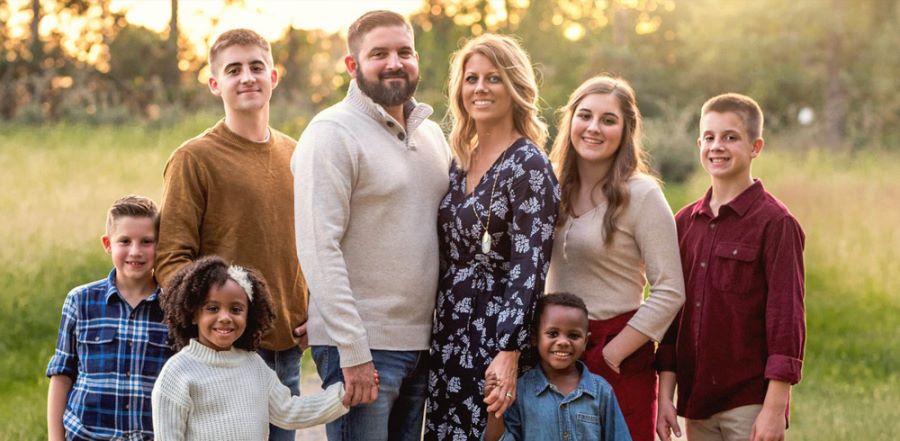 Don't miss any stories. Follow AG News!
Life seemed busy enough for David and Kim Overstreet when the Lord interrupted their plans.

The couple and their four children had just moved to Plumerville, Arkansas, where David planted Plumerville Faith Assembly.

But at a Winter Jam concert, a plug by promoter Holt International caught their attention.

"We had sponsored kids elsewhere," Kim recalls. "But this presentation cut us deeper. We knew we needed to do something beyond giving $30 a month."

David, despite having just read All In, a book by Assemblies of God pastor Mark Batterson about spiritual commitment, wondered about increasing their commitments.

"I said, Do we really need more on our plate?" David recalls. "But then I realized God wanted us to do something that mattered."

For the next year, the Overstreets fostered 13 kids in their home, ranging in age from 2 months to 17 years. The children stayed an average of a couple of months.

David, 41, learned to trust the Lord earlier. In a career switch, he went from earning $80,000 annually as owner of a cabinet-building business to less than half of that as a church-planting pastor.

Their focus changed when 2-month-old Cannon came into their custody as their first foster placement. Three months later, the Overstreets also began caring for Cannon's 15-month-old sister, Jubliee, who already had lived in four foster homes.

"We didn't know at the time whether they would return to their biological home or come up for adoption," Kim says. "We prayed for their biological family, but also felt a special bond with both little ones."

Then the state terminated parental rights. So, despite having four biological kids, the Overstreets adopted two more. Cannon is now 4 and Jubilee will turn 6 in December. Their siblings are Cahill, 17; Joy, 15; Kaleb, 12; and Kolt, 8.

Having a brood around the house is nothing new for David, the oldest of 11 children. He had his share of changing diapers and rocking babies to sleep as a teenager. David and Kim met at church and became youth pastors after marrying in 2001. Stints as an associate pastor and church planter followed for David.

After five years at Plumersville Faith Assembly, David assumed the pastorate at Whitney Lane Family Worship Center, another Assemblies of God church, in January 2017.

Kim, who wed at 18, finished college while pregnant with her fourth child. She works at the church and also teaches fifth and sixth grades full time at Cornerstone Christian Academy, which is located on the 20-acre church property.

Whitney Lane attracts an average of 275 worshippers on Sunday mornings. Some of those are relatives of David, who grew up in the area and has various longstanding ties. The Wednesday night gathering attracts around 200 regularly, including 80 in youth group.

The church is known as a hub for compassion ministries for the hurting and the needy, including Imagine & Believe, which ministers to foster kids with food, diapers, clothing, and other helps. The church also is headquarters for Daughters of the Other Side (DOTS), a faith-based addiction-recovery ministry. The campus houses 35 women in a residential program, in which they attend classes four days a week, work at a clothing center and food bank once a week, and minister in churches on Sunday.

DOTS founder Sharon Ann Hughes, 59, says Overstreet attended the group's vision-casting meeting and quickly offered facilities for the ministry. So far, 49 women have graduated from the program. Many have secured employment and regained custody of their children.

"The lives of women are being restored because of the generosity of David and Kim Overstreet and Whitney Lane," says Hughes, who has known David for a decade. "I've seen David grow in his ability to connect with people in the community because of his relationship with God."

Notwithstanding their packed schedules, family time is a priority for the Overstreets. David says the entire crew eats at least one, and preferably two, meals together daily. During those 20 minutes, conversation with each other is stressed and cellphones are verboten.

"We want to instill confidence in kids so they know their identity is in Christ," Kim says. "We spend individual time with them, especially in casual conversation, and affirm them through encouragement, affection, and Scriptures. We want our kids to become secure individuals because of God's plan and love for them, rather than suffer from insecurities and loss of identity because we forgot to take time to instill it."

In October, David and Kim had the opportunity to get away for a Rural America Ministries Network marriage retreat in Alabama.