Transforming Lives in Jail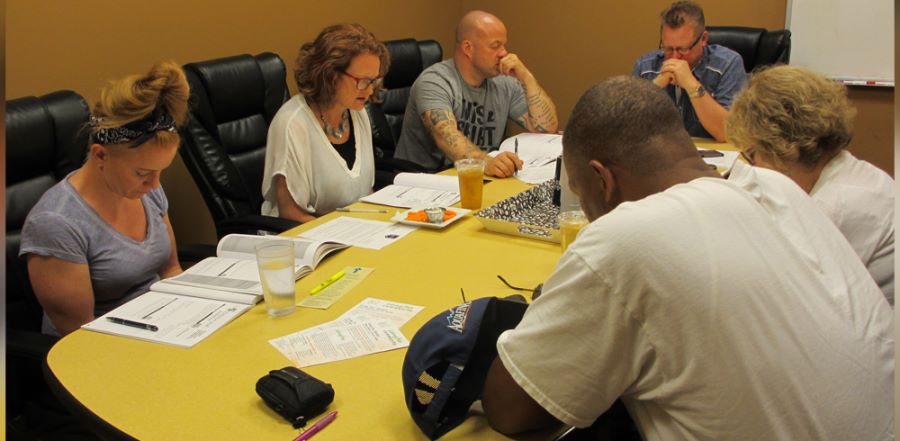 Don't miss any stories. Follow AG News!
Trouble paid an early visit in Andrea L. Eberhardt's life.
She was 3 years old when her dad committed suicide. An elderly grandmother with cancer helped raise the girl and her brother while their mom worked four jobs to support them.
Growing up in Lake Bronson, Minnesota, Eberhardt fell into the wrong crowd. She taught herself to smoke at age 11, and by that time she drank alcohol, too. Although her family moved to Mayville, North Dakota, she again gravitated toward bad influences. At 14, she became sexually active.
After she and her boyfriend broke up, her downward spiral accelerated with the selling of methamphetamines by 15. The dreadful existence continued with an abortion, drug addiction, and later losing custody of her two children.
Her out-of-control life came to a halt after Eberhardt went to jail in Fargo, North Dakota, and participated in the Jail Chaplains Bible study and church services.
Now 34 and sober, she credits that ministry with leading her to Christ, and Living Free groups for helping her stay clean.
Gerri R. Leach is executive director of the Jail Chaplains ministry. Assemblies of God pastor Curt W. Frankhauser laid the foundation for the ministry in 1979, when he started as a volunteer chaplain for the Cass County Sheriff's Office.
Today, laypeople and clergy from about 16 churches help with more than 20 hours of faith-based programming each week at the county jail.
Fargo and the adjacent Moorhead, Minnesota, area, ranked No. 1 in the nation in adult binge drinking, according to a recent Fargo Cass Public Health survey.
"The jail administration tells us that 85 to 90 percent of the people incarcerated in Cass County are there because of an addiction," Leach says. "They are using and dealing or committing a crime to support their habit."
Although jail chaplains aren't experts in addiction, Leach says they do have experience working with people with life-controlling problems.
In 2016, community leaders sought help from people of faith when the opioid epidemic hit the Fargo-Moorhead area and six young men from middle- and upper-class families died of overdoses within about eight weeks. A few months later, Leach came across the Living Free model and realized it fit the need exactly.
Living Free is a faith-based, small-group program, launched 30 years ago in Tennessee. It includes 29 different topics and covers life-controlling situations — not only drugs and alcohol — but also food, pornography, gambling, co-dependency, anger, depression, and grief.
"Many times, a life-controlling problem develops because there's been a situation that's caused great pain in someone's life that's not been dealt with in a healthy way," Leach says. "People can build up walls to protect ourselves and get into a very dysfunctional state."
She says that can be especially acute in places like Fargo-Moorhead, where clusters of residents from Scandinavian and German heritages often avoid discussing problems.
"People are carrying a lot of heavy burdens that God never intended us to carry alone," Leach says.
Thus far, 106 people from 29 churches have completed Living Free training.
Trained leaders facilitate small studies from nine to 13 weeks with no more than 10 people per group. Groups are designed to be a safe place. Participants can gain hope from a biblical perspective by learning how they developed an unhealthy pattern and how to make different choices.
Groups meet in the jail, coffee shops, libraries, churches, and a bank in a 50-mile stretch. A year after the first groups began, 1,191 people ranging in age from 13 to their 90s, have participated.
Jail Chaplains employ Eric Johnson as the Living Free small-group coordinator and licensed AG pastor Mike R. Sonju as chaplain for the Cass County Jail.
Eberhardt recalls her life before the Jail Chaplains' intervention.
Barely graduating from high school, she moved to Fargo, where she got pregnant and had an abortion. Eberhardt then had a baby, who went to live with the father.
"I thought I could sober up, but I eventually started up using again," she says.
Soon, involved with another man, she gave birth to a second child.
"I couldn't stay sober," she says. "I just fell right back into the old pattern."
She became addicted to pain pills, then started using meth again. She lost custody of her 2-year-old daughter. Eberhardt missed a court date and went on the lam, stealing a vehicle while drunk. She drove to Mayville and saw her ill mother, who told Eberhardt her then-5-year-old son was praying for his mom.
Eberhardt cried.
But she kept running from law enforcement. Soon thereafter, she was arrested. During a jail church service, she heard about God's love and becoming a new creation in Christ (2 Corinthians 5:17).
She enrolled in Teen Challenge USA, the addiction recovery program of U.S. Missions. She returned to Fargo, where she told Leach how God used the Jail Chaplains program to start her on a new path.
Eberhardt and her daughter's dad, Adam, married in 2016. They have a blended family of five and live in Casselton, North Dakota.
In the meantime, Leach invited her to the community meeting and she later participated in Living Free training. Eberhardt and her spouse have taken part in the Godly Parenting and Committed Couples groups.
Soon, Eberhardt will celebrate five years of sobriety.
"There is absolutely no hope without Christ," she says. "I've seen so many people come to Christ and grow in their faith through the jail ministry and Living Free."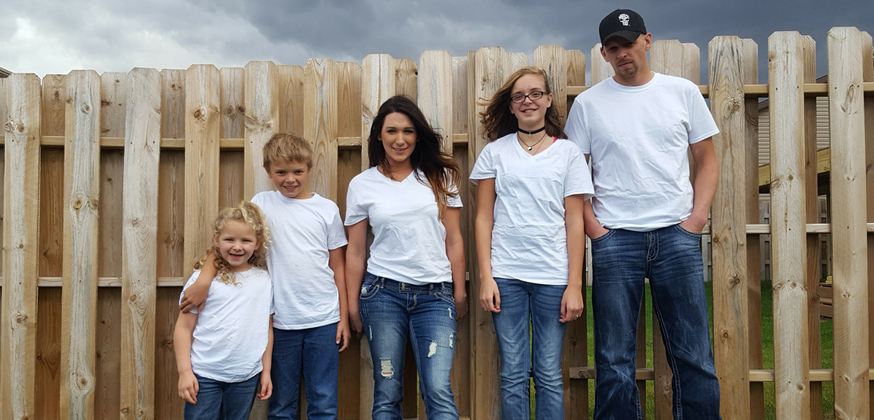 Top Photo: Participants in a Living Free small group are (from left) are Christina Kraft, Dawn Robson, Bradley Satrom, Thane Fliginger, Kathy Mitchel, and Melvin Lewis.
Bottom Photo: Andrea Eberhardt knows how Living Free groups have helped her and her family. From left, Sophie, Miles, Andrea, Austen, and Adam.