Royal Family Kids Camp: Hope Amid Horror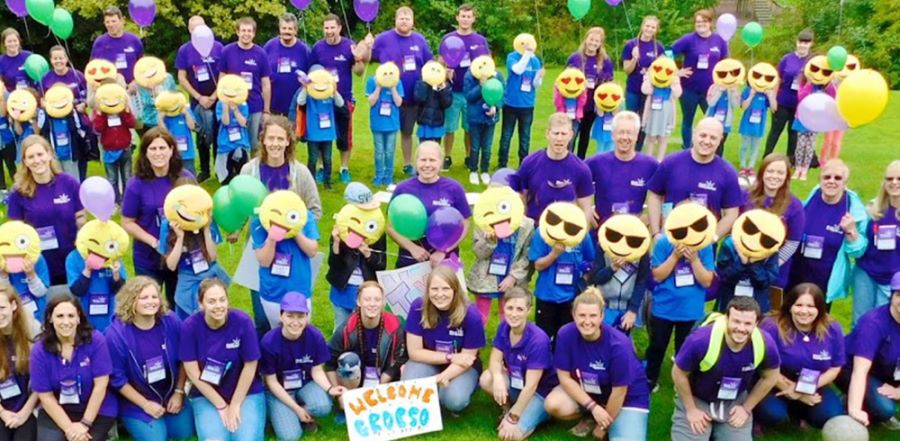 Don't miss any stories. Follow AG News!
The following first-person article is by Misty Elliott. Misty and her husband, Bryan, are AGWM missionaries in Wales. Please pray for the Elliotts, their ministry, and every child they will serve in the 2018 Royal Family Kids Camp later this month.
HISTORY
Royal Family Kids Camps started around 30 years ago in Orange County, California. It is a five-day summer camp specifically for children (ages 6-12) from the foster care system who have experienced various types of abuse and neglect. They are truly "the least of these" in our own communities. They are often living right next door to us, yet go unseen.
Children who attend Royal Family Kids Camps are children who have been locked in closets, slammed against walls, burned with cigarette butts, and have experienced horrific sexual abuse. Ours are the children who have been discarded and treated as if they matter to no one.
That's one of the things that makes Royal Family camps so special. Volunteers spend a week of their vacation time to treat our campers like royalty and show them they matter and are loved, not only by camp sponsors but also by the God who created them.
Royal Family Kids has grown to include more than 200 camps in the United States, with others overseas in countries like Chile, Ghana, South Africa, Australia, and Wales.
ROYAL FAMILY KIDS UK: HOW IT BEGAN
We (Bryan and Misty) were Chi Alpha directors at Kansas State University in Manhattan, Kansas, when God called us to plant churches in Wales. Our good friends Scott and Tricia Murrish, who pioneered Royal Family Kids Camps (RFK) in our local church, later became national staff for RFK. We began to dream together about starting RFK out of the churches we would plant in the United Kingdom.
As we prayed, we began to increasingly sense that this was no longer just a dream, but rather, God's call for us to push back darkness by sharing God's love with children who had experienced unthinkable horrors. We moved to Wales in 2011 and planted Capital City Church in the capital city of Cardiff.
In 2015, we began to lay the groundwork for Royal Family Kids UK. It was slow going, with much resistance. Because there was nothing like it in the UK, and because it was an extension of the church, we were met with suspicion and skepticism almost everywhere we turned. Our meetings with social services were unproductive. Church leaders admitted they thought it was just too big. Numerous people said we would never pull it off and that social services would never sign off to give us the children.
Additionally, our church plant was not big enough to staff the camp, and the camp budget was much larger than the church's entire yearly budget. We just kept reminding ourselves that if God had called us to start this, then He would provide all we needed. His heart is for the children we wanted to serve.
We continued to pray for connections, provision, and miracles. We talked about RFK everywhere we went and networked with many other churches, foster parents, and social workers. Doors began to open, and others began to catch the vision. We began to see miraculous provision. As we prayed for social workers to sign off allowing children to attend, the signatures began to come in.
In August 2016, 45 volunteers from many area churches served 22 children at our first Royal Family Kids Camp — the first not only in the UK, but also in Europe.
This Aug. 12-17, our third year, 65 adults will serve nearly 50 children from local councils across South Wales. Social workers are seeing the difference a week at RFK makes in the lives of the children. Now they contact us, asking us to please take all their children to camp!
WHAT CAMP LOOKS LIKE
The week at camp is packed with nonstop life-changing experiences. Morning activities start with Breakfast Club. There we incorporate action songs that specifically speak into children's situations. We sing songs about how they are not forgotten, that they are beautifully and wonderfully made, that God made them, loves them, and is with them no matter what they are going through. We also sing songs about the hope they can have for their future — that God has good things for them, no matter what their life looks like now. We then have story time, where the children learn about people like Joseph and Esther who had to go through some pretty hard, scary things, but God was with them the whole time and had wonderful plans for their lives.
The days are also packed with a carnival, talent show, water games, animals, and craft activity center. On the Thursday of camp, every child gets a birthday party. Often when children are in foster care, things that would seem normal to most children don't happen. Many children who attend RFK have never had a birthday party, so we go all out for the RFK birthday party. Every child gets a cake with their name on it, gifts, games, and loads of other fun.
Most of us have many photos of ourselves as children, but many of our campers have no pictures of themselves growing up. They've been moved from place to place, often carrying what few clothes and belongings they have in a black trash bag. During the week at camp, the camp photographers put together a memory book for each child full of pictures of all their favorite memories. Children also receive a duffle bag for their belongings, and an mp3 player with all the camp songs preloaded.
MOVING FORWARD
Currently, our campers come from all over South Wales, but this is just one small part of the UK. As of 2017, there are about 6,000 children in foster care in Wales, and about 68,000 children in foster care in the UK. The task is huge. We need churches all over the UK to step forward to serve the children in their own communities.
To this end, we've just applied to be a registered UK charity and are forming a national office which will be tasked with expansion. We have a vision to see new camps start all over the UK so that more and more foster children can experience the life-changing love of Christ.
Once a summer camp is firmly established, year-round clubs and mentoring programs are the next step. We're looking to launch these in the next 18-24 months. We also have a vision to see RFK expand into the rest of Europe. Poland will have its first camp starting this summer, and we're praying it will be the first of many.
Pray with us.
For more information on Royal Family Kids Camp, visit www.rfk.org or www.rfk.org.uk.