Buddy Brigade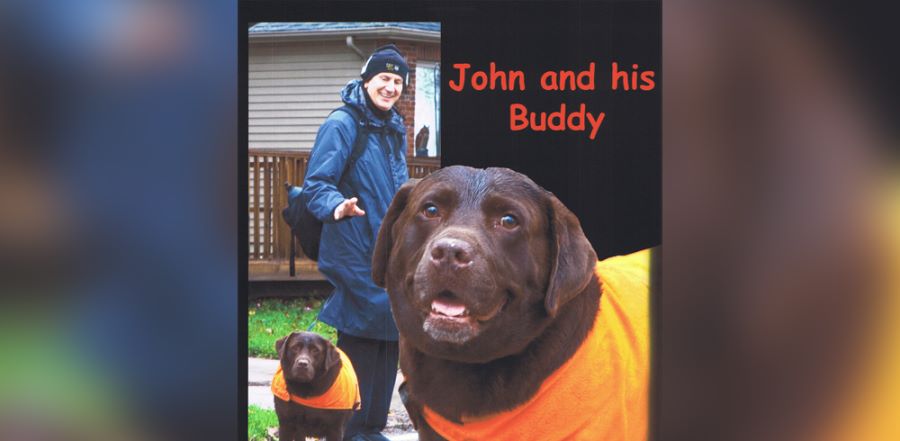 Don't miss any stories. Follow AG News!
Thousands of neighbors in metro Detroit knew Buddy, the affable chocolate Labrador retriever who loved to walk. Nearly daily for 12 years, John Karakian obliged, regardless of the weather, typically six hours a day.

After Buddy died March 11 last year, Karakian handled his grief by hand-delivering a notice of his dog's death with pictures of himself and Buddy in his best yellow raincoat to homes on their walking route through the culturally diverse Novi, Walled Lake, and Wixom communities. He stapled two tickets to his Assemblies of God church's Easter production to each note.

To Karakian's surprise, many responded to his invitation with emails, text messages, and phone calls. Around 60 sympathy cards came in the mail. Memorials to the beloved Buddy showed up in front of Karakian's house.

A police officer who hadn't seen Karakian out walking showed up at his house to check on his well-being. Karakian explained that his dog died.

"Do you think he's in heaven?" Karakian asked the officer. "Next thing you know, we're talking about Jesus."

That's how hundreds of conversations unfolded in the wake of Buddy's death. He invited all with whom he engaged in conversation to church.

When Karakian, 66, stood at the door of Brightmoor Christian Church as people came to the Easter production, he didn't believe anyone he invited would show up. Soon, however, he saw faces he recognized from more than a decade of walks with his chocolate Lab. From spiritual conversations he'd had with them, he knew their faiths: Hindu, Muslim, Buddhist, Jewish, atheistic. He also saw Christian women with non-Christian husbands. Karakian lost count at 60 of his walking contacts.

Many told him the same thing: We're here for Buddy.

While Karakian thought his work had finished, the morning after the Easter performance he says he heard a voice inside speaking: You're not done yet. Keep sending those letters out.

At first, Karakian resisted the call.
I can't be walking around telling everybody my dog died, he recalls telling the Lord. They're going to think I need a psychiatrist.

But he says the Holy Spirit persisted with the message: You do the walking, and I'll do the talking.

Now without his beloved Buddy, for seven months he kept walking the route, hand-delivering more custom-made Buddy cards. Ultimately he visited 2,200 homes, his credit union, the UPS store that printed the cards, his doctors and their nurses. He struck up spiritual conversations. He invited people to the Brightmoor Christmas production. And he prayed.

Buddy cards went to Maria's Deli, where a framed picture of Buddy (Maria's number one customer, according to Karakian) had long held a place of honor because the dog loved the eatery's lasagna.

"People come in and see that picture and say, I know that dog, I see that guy," Karakian says. Maria, concerned about Karakian's loss triggering a wave of grief, took down the picture for a time. Karakian gave her tickets to the church program, too.

As word spread about Buddy's demise, people kept approaching him with condolences. Many he didn't recognize, but for years Karakian and his chocolate lab had been community institutions.

Karakian distributed 400 "Buddy tickets" to the church's Christmas program. On the night of the performance, he couldn't see everybody who entered the megachurch that seats more than 2,100; he lost count somewhere over 200 from the "Buddy Brigade" who showed up. As with the Easter production, the Christmas show presented the gospel.

More than a month after the Christmas production, Karakian received reports of its impact. Some invitees unable to attend gave their tickets to others who came. A woman he didn't know showed up at his house with a cake, thanking him. Because of a Buddy card and a conversation Karakian had with her husband, her husband and son went to church.

"If Buddy didn't pass away, none of this would have happened," Karakian says, noting that he just needed a dog, a leash and "my two feet" to proclaim the gospel. He cites John 4:35 — the fields are ready for harvest.

In all, Karakian visited 2,200 homes, and no one turned him away when he started talking about the need for Jesus as Savior.

"I said, Hey my dog died, then it was all ears," Karakian says. "It's the wonders of the Lord."

Robb Stancer, Brightmoor's creative arts pastor, describes Buddy as a "four-legged friend that could melt your heart with compassion and help you open your eyes to something greater."

"They say they came because of the dog, but I think it's John's genuine love and care for the individual," Stancer says. "This little dog bridged a gap between race, religion, culture, and person because they loved Buddy. In many ways, John was just being Christ's hands extended."

Stancer points to the principles of sowing and reaping.

"In some of those people who came for the Buddy Brigade and others who attended, we planted a seed," Stancer says. "With others, we watered that seed, and with others we harvested."

Karakian, Stancer says, had a burden to reach those who had been so kind to him and Buddy.

"Out of that birthing, God has used this simple act of obedience," Stancer says. "He was obedient to God, and God honored that."