50,000 Free Throws and $50,000 for BGMC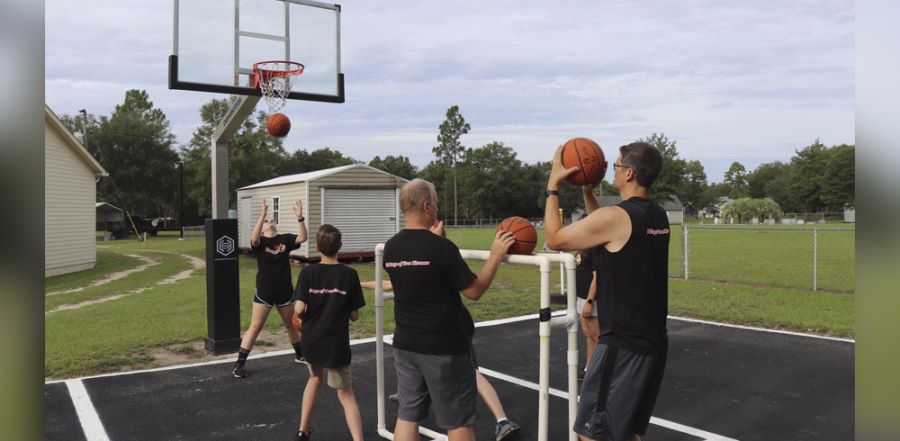 Don't miss any stories. Follow AG News!
Over the span of 50 days,
Freedom Church's
then-49-year-old children's pastor, Perry Dissmore, not only raised enough money for Boys and Girls Missionary Challenge (
BGMC
) to build a basketball court in Sri Lanka as a gospel connection point for kids, but set a
Guinness Book of World Records
record, as he shot free throws for BGMC.
Yet, the idea had its roots in an unusual place: fear.
"For a while, I was fearful of turning 50," Dissmore admits with a bit of a laugh, "but I decided to turn it around, do something adventuresome, and bring glory to God."
After much prayer and more than a few "God coincidences," Dissmore decided his adventure was to make 1,000 free throws in under 60 minutes for 50 consecutive days to raise $50,000 for BGMC to build the basketball court in Sri Lanka for missionaries' use.
Shooting free throws as a BGMC fundraiser isn't something new for Dissmore. Some may recall that he earned the
Guinness Book of World Records'
title for the most free throws made in an hour while raising money for BGMC in 2009. He regained the title in 2010 and
broke the record
again in 2018. However, he's never attempted shooting such a high quantity of shots for so many days in a row.
Prior to taking on the challenge, Dissmore spent weeks getting his arms and body in condition to be able to handle the stress of shooting and enduring the less-than-ideal Tallahassee, Florida, heat. Then, with the help of Elijah Zielke, a senior at North Central University in Minneapolis who is interning with the church, a host of volunteers, and with a local TV station on site, Dissmore began his 50-day campaign on June 18.
And by the third day, Dissmore was already in trouble.
"It was Father's Day, it was 90 degrees outside, we were all tired (from the morning service), and my arm was really starting to hurt," Dissmore says.
But a call to a friend who is a physical therapist ended up working wonders, and the days and baskets began to click off, pain-free — though not challenge-free.
As Zielke had helped Dissmore find locations in the area and surrounding communities to shoot free throws, sometimes that meant shooting in the comfort of an air-conditioned gym; other times it meant shooting free throws in someone's driveway, looking into the sun. In all, he shot at 27 different locations with Zielke being on hand to emcee the daily effort on Facebook Live and post updates and pictures, while also assisting volunteers in keeping the basketballs flowing into Dissmore.
Over the course of the 50 days, Dissmore had his glasses broken, shot in front of dozens of cheering kids, shot in the rain and
on TV
, faced breezy conditions as well as extreme heat, and perhaps one of the more entertaining days, had to shoot free throws on a basketball hoop and backboard that were falling apart — the backboard rocking back and forth nearly like a carnival game every time the ball contacted the rim or backboard. Yet, through it all he persevered, achieving his goal each day.
A side benefit of all the free throw shooting was that Dissmore was growing physically stronger and accustomed to the strain. So, on Day 40 (July 27), it was decided that he would try to break his own world record of 2,395 free throws in an hour.
In less than 24 minutes he had made his first 1,000 free throws and was feeling strong. But by 35 minutes into it, the "good feeling" was gone as the pace was demanding and exhaustion was starting to set in as his normal pace was about 30 free throws made per minute — he was shooting much faster than that.
"The words 'I don't care' and 'is it worth it?' came to my mind," Dissmore says, "but I pushed those thoughts out of my mind because I do care and yes, it is worth it" . . . worth more than he knew! For as he was attempting to break the record, someone left a text for him — if he broke the record, they would donate $5,000 to the project. He finished the hour by breaking the record with 2,461 free throws — an amazing 41 free throws made per minute!
On Friday, Aug. 6, with a television crew documenting the event, Dissmore finished off his last day,
achieving his goal
. To place it in perspective, over the course of the 50 days he lifted nearly 84,000 pounds of basketballs and shot a basketball just shy of 175 miles — the approximate distance from Detroit to Cleveland — while making 84% of his shots.
"Imagine committing yourself to 50 days in a row, spending several hours endeavoring to do something to raise money for missions," says David Boyd, national BGMC director. "Perry has accomplished a feat of raising $50,000 for missions to celebrate his 50th birthday. That is more money than most people give in their lifetime. Perry had an epic goal and accomplished an epic endeavor all to reach the world for Christ!"
Dissmore tips his hat to Zielke, noting he couldn't have done the challenge without him. For his part, Zielke admits he may have had one of the more unique church intern experiences this summer with the free throw challenge added to typical responsibilities, but he confirms both his enjoyment of the event and that lives were impacted by it.
"He really inspired me to do something crazy for Jesus — to be bold and don't be afraid to do what God has called me to do," Zielke says. "It was also wild how the kids at the [MEGA Sports] camps and VBS-type things were awestruck. They thought it was awesome, every kid — one of them even came up to Pastor Perry telling him he was better than Michael Jordan!"
Dissmore laughs about the Jordan comparison, but gives all the credit to God as not only did he finish the challenge, but they have currently raised $52,600 for BGMC and the basketball court. Yet even beyond that, Dissmore says he is deeply thankful for the opportunity to share the gospel and the missions story on multiple television and radio broadcasts as well as online and in person.
"I have a classmate from high school who asked how she could give to the mission," Dissmore says. "She's been through a lot of tragedy in the last couple of years, and we began talking about hope in the Lord. Friday night, the same day I completed the 50 days, she calls needing prayer — Nicole, my wife, and I led her to the Lord over the phone and then spent time discipling her on Saturday with her first
Now What?
series."
Larry Perry, lead pastor of Freedom Church for nearly 25 years and a great source of encouragement throughout Dissmore's effort, is more than pleased with the results.
"We have never been able to raise that kind of money [for BGMC] — this has been an amazing opportunity to put Perry's [Dissmore] gifts to work and make it count for the Kingdom," pastor Larry Perry says. "Some of the kids caught wind of what we're doing and saw a new horizon for BGMC giving — my grandson, getting ready to turn 7, was so inspired he said he had to be here at 5:30 in the morning to help Perry on his last day — a lot of kids caught a vision for missions because of what Perry was doing."
And a special blessing was still instore for Dissmore. On Sunday, Aug. 8, just two days after finishing the challenge, he had the opportunity to minister in the main church service. Unknown to him, pastor Larry Perry arranged for one of the missionaries he had been shooting thousands of free throws for, to be at the service.
Dissmore laughs at the memory, and says, "Right as worship is ending, pastor brings him and his family up on stage and introduces them. And it struck me,
Now here's the guy that's going to see all the results
, and tears just started welling up in my eyes with the thought of what God was going to do . . . and then I had to still try to preach!"