Continuing the Legacy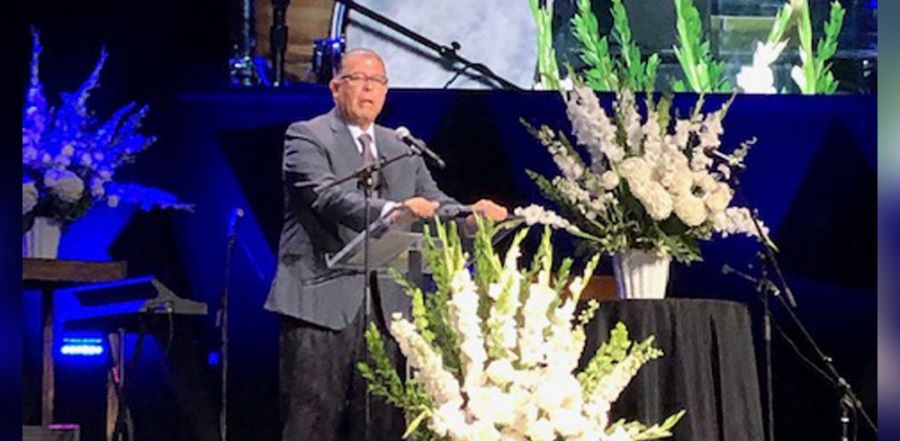 Don't miss any stories. Follow AG News!
Although Pentecostal Hispanic patriarch Jesse Miranda Jr. died last July at age 82, his legacy continues to be felt throughout the Latino evangelical world.

One of those carrying out Miranda's vision is his older son, Jesse R. Miranda III, who is executive director at the institute that bears his father's name, the Jesse Miranda Center for Hispanic Leadership in La Puente, California. The center's mission is devoted to educating Hispanic students and training ministry leaders.

"The triad of church, campus, and community is critical toward building the Kingdom," says Jesse Miranda III, who goes by Jack.
Jesse Miranda Jr. served as a bridge builder among various ethnic, generational, denominational, and political entities. With his irenic personality, he was widely regarded as the driving force behind uniting disparate U.S. Hispanic evangelicals on issues such as theological education, social ethics, and racial reconciliation.
Miranda served as an Assemblies of God executive presbyter for 22 years, ending in 2017. He became the first Hispanic nonresident to the body, which serves as the board of directors for the Fellowship. He also served as executive director of the National Hispanic Christian Leadership Conference (NHCLC), the nation's largest Christian Latino organization. Around 750 people attended an Office of Hispanic Relations reception honoring Miranda at the 2017 General Council.

After serving as an AG Hispanic district superintendent in California, Miranda felt prompted to switch gears into a different form of ministry. On a return flight to Los Angeles in 1992, Miranda saw the city aflame in the wake of the acquittal of police officers charged with using excessive force in beating Rodney King. Miranda sensed the Holy Spirit's asking, What is the Church doing for the city?

"That question continues to be a motivation for us," says Jack, 61. "We want to train up urban and ethnic minority leaders to minister to the city, to be a voice and a presence in the community."

Initially, in response, Jesse Miranda accepted an invitation from Azusa Pacific University to form a Hispanic department. In 2000, Miranda moved to Vanguard University, to establish the Center for Urban Studies and Ethnic Leadership. The school later renamed the think tank as the Jesse Miranda Center for Hispanic Leadership. Miranda prophetically saw the need to increase educational opportunities for the growing Hispanic minority. Two decades ago, Vanguard's Hispanic enrollment accounted for 9 percent of students; this school year, Hispanics comprise 44 percent of the first-year students at the school in Costa Mesa.

"We want to not just enroll our brown students, but to graduate them," says Jack, a third-generation ordained AG minister. "The browning of the Church will continue, especially in the border states. We want ethnic minorities to be educated and theologically grounded." Discipleship is an integral part of church life in order to pre-empt an increasing decline in faith in a generation increasing made up of "religious nones," Miranda says.

Church leadership is more than theoretical for Miranda, who 20 years ago planted Living Faith in his hometown of La Mirada.

"If the local church is the beacon of hope, we need to impact the community where those people worship," says Miranda, who stepped down as pastor two years ago.

Currently, after being located at Latin American Bible Institute the past four years, the Jesse Miranda Center is seeking a new home as an independent nonprofit with an expanded focus. The center is now involved in an initiative to help pastors integrate faith and work for their congregants.

"We're training up pastors to recognize the 500-year-old message of Martin Luther: the priesthood of all believers," Miranda says. "Pastors need to recognize the gold mine in their congregation and release all of God's people for ministry, not just pastors and missionaries. If you have faith in Jesus Christ, you are in ministry. Typically, Christians spend 165 hours a week outside of church."

The Jesse Miranda Center also has partnered with Made to Flourish, a pastoral network based in Overland Park, Kansas.

Starting in 2000, ordained AG minister Fernando C. Tamara spent 19 years at the Jesse Miranda Center, carrying out the founder's vision as program director, researcher, and executive director. Tamara, 48, is now a city network leader with Made to Flourish. Tamara is confident that Jesse Miranda's legacy for first-generation Hispanics will continue through his eponymous center.

"The center became a leader in mentoring Spanish-speaking students and immigrants who needed to acculturate sociologically from their localities to a macro experience in areas such as liturgy, stewardship, spiritual discipleship, and even financial education," says Tamara, who also is pastor of Hispanic Ministries at Orange County First Assembly of God in Santa Ana. "The culture shock can be profound that first year, and they need to be shown pathways to interact and understand new ways of navigating the institution."

Tamara, who also serves as translation coordinator for the Assemblies of God national office, says Miranda continued to concentrate on Christian reconciliation until the end of his life. Tamara says only two days before Miranda succumbed to an aggressive form of lymphoma, he discussed the need for them to build more bridges with Anglos.

"He was still talking about his main purpose in life: unity," Tamara says.
Photo: Jack Miranda speaks at his father's funeral.