Roe Reversed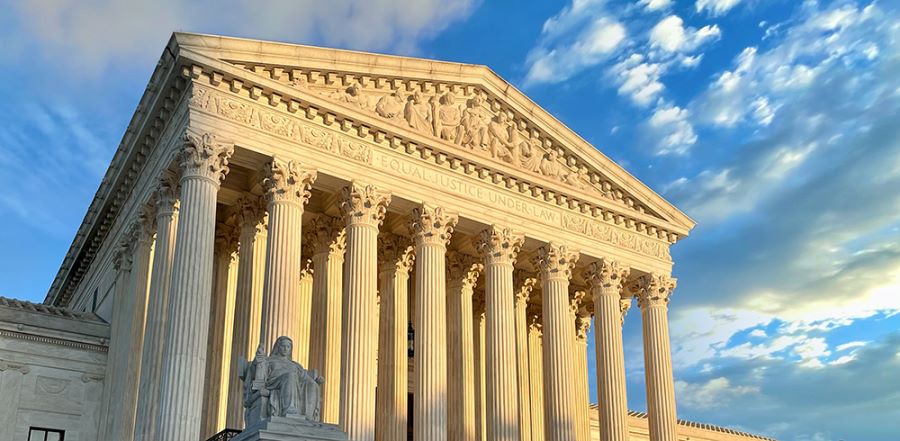 Don't miss any stories. Follow AG News!
In a much-anticipated ruling, the U.S. Supreme Court on June 24 reversed the mandated legality of abortion throughout the land and returned the matter to state legislatures.
In the 6-3
majority opinion
,
Dobbs v. Jackson Women's Health Organization
authored by Justice Samuel A. Alito, the court ruled there is no national right to abortion.
"The Constitution does not confer a right to abortion," Alito wrote in his 78-page opinion. "
Roe
and
Casey
are overruled; and the authority to regulation abortion is returned to the people and their elected representatives."
The decision came after an unprecedented leak May 2 of a first draft majority opinion written by Alito.
Justices Neil Gorsuch, Brett Kavanaugh, Clarence Thomas, Amy Coney Barrett, and Chief Justice John G. Roberts concurred with Alito's opinion that the right to abortion isn't deeply rooted in the nation's history or tradition. Justices Stephen Breyer, Sonia Sotomayor, and Elena Kagan dissented together, citing
stare decisis
, and expressed reluctance to overturn the long-standing
Roe
precedent.
Alito scoffed at such reasoning, labeling the 1973 Roe decision an abuse of judicial authority. Adherence to precedent is hardly an "inexorable command," he declared.
"We hold that
Roe
and
Casey
must be overruled," Alito wrote. "The Constitution makes no reference to abortion, and no such right is implicitly protected by any constitutional provision, including the one in which the defenders of
Roe
and
Casey
now chiefly rely — the Due Process Clause of the Fourteenth Amendment."
In great detail, Alito enumerated the legal reasoning failures of
Roe
. He noted that abortion had been a crime in every state for most of the nation's 246 years.
"
Roe
was egregiously wrong from the start," Alito wrote. "Its reasoning was exceptionally weak, and the decision has had damaging consequences." He said the Supreme Court usurped the power of the states to address a question of profound moral and social importance.
Roe
failed to ground its decision in text, history, or precedent, Alito said.
Alito also faulted the notion that the court shouldn't reverse its previous precedents. He observed that the unanimous
Brown v. Board of Education
decision in 1954 repudiated the infamous "separate but equal" racial doctrine established by the 8-1 ruling of
Plessy v. Ferguson
in 1896.
REVERSING ROE
The
Dobbs
case marked the most significant challenge to the availability of abortion since the U.S. Supreme Court legalized the procedure 49½ years ago with the landmark 7-2
Roe v. Wade
decision — which negated statutes that had limited it in 46 states. A 1992 case,
Planned Parenthood v. Casey
, narrowed yet reaffirmed
Roe
.
Only two years ago — before the appointment of Barrett — in a 5-4 decision the high court
ruled unconstitutional
a Louisiana law requiring abortionists to have admitting privileges at a regional hospital.
The Mississippi law that formed the basis for
Dobbs v. Jackson Women's Health Organization
banned most abortions after 15 weeks of gestation. Since Roe, states have been prevented from restricting abortion before fetal viability — around 28 weeks after fertilization in 1973, but now about 23 weeks of pregnancy.
Alito noted that in the first 185 years of the nation, states had the right to determine the issue for themselves. He criticized
Roe
for conferring a broad right to obtain an abortion through the "exercise of raw judicial power" when the Constitution is silent on the matter. He pointed out that 30 states prohibited abortion at all stages before
Roe
.
Roe
imposed a trimester viability test for abortion.
Casey
substituted a new regulation forbidding states to impose an "undue burden" on a woman's right to abortion.
In his
arguments
before the court
last December
, Mississippi Solicitor General
Scott G. Stewart
declared he would like to see the Supreme Court limit abortion to less than 15 weeks.
"
Roe v. Wade
and
Planned Parenthood v. Casey
haunt our country," Stewart proclaimed before the justices. "They have no basis in the Constitution. They've damaged the democratic process. They've poisoned the law."
Stewart noted that the Supreme Court has never recognized the right to end a human life other than
Roe
.
In the 6-3
Dobbs
ruling, Thomas, Kavanaugh, and Roberts wrote separate concurring opinions.
Thomas emphasized that "there is no abortion guarantee lurking in the Due Process Clause." He noted that nothing in the ruling will cast doubt on precedents unrelated to abortion, such as same-sex marriage. Thomas said more than 63 million abortions have been performed in the U.S. since "the fabrication of a constitutional right to abortion."
Kavanaugh stressed that the ruling doesn't outlaw abortion throughout the nation — as the
Roe
ruling granted access everywhere.
"The
Roe
Court took sides on a consequential moral and policy issue that this Court had no constitutional authority to decide," Kavanaugh wrote. He pointed out that 21 states had filed
amici
briefs related to
Dobbs
requesting that abortion continue.
Roberts agreed that the viability line established by
Roe
should be discarded. Yet while he concurred with the majority opinion in
Dobbs
, he questioned whether the justices had the authority to eliminate the abortion right first recognized in
Roe
.
NEW STATE LAWS
With federal courts often blocking or overturning congressional laws,
various state legislatures
during the Obama presidency began enacting measures to chip away at
Roe
.
More recently, 26 states expressly asked the high court to overturn
Roe
and
Casey
. Almost half the states in the union have passed laws banning most abortions in the event of
Roe
being overturned.
For instance, Oklahoma Gov.
Kevin Stitt
, an AG adherent, signed legislation in May banning nearly all abortions starting at fertilization. State legislatures enacted more abortion restrictions last year than in any previous year in U.S. history.
Conversely, over a dozen states — including heavily populated California, New York, and Illinois — have enacted legislation that provides virtual unfettered access to abortion until the moment of birth. In addition — after the leak of the draft document — various corporations, including Amazon, Apple, Microsoft, and Starbucks, announced plans to pay for employees to travel to receive an abortion. Vandals have damaged more than two dozen pregnancy help centers throughout the U.S. since the leak.
According to the abortion rights research organization the Guttmacher Institute, 930,160 abortions occurred in the U.S. in 2020, up from 863,320 three years earlier. The 2020 figures represented more than one in five pregnancies in the nation.
AG REACTION
AG legal counsel
Kristen K. Waggoner
lauded the ruling.
"The Supreme Court's decision is a major victory for unborn children and their mothers," said Waggoner, who became
new counsel
for the Fellowship in January, while retaining her role as general counsel for
Alliance Defending Freedom
. "Laws across the country can now affirm that life is a human right and ensure women have greater access to the support and resources they need and deserve." Attorneys for the Scottsdale, Arizona-based ADF served on Mississippi's legal team in the
Dobbs
case.
Waggoner, who
has argued
before the U.S. Supreme Court, said the battle continues.
"We now turn to the states to ensure that unborn children and their mothers are protected from the gruesome reality of abortion, and that they receive the care and resources they need to flourish," Waggoner said.
Cindi Boston, vice president of the Columbus, Ohio-based
Heartbeat International
, the world's largest pregnancy help movement organization with over 2,250 U.S. centers and nearly 3,100 global affiliates, said the pro-life movement is now entering a new phase.
"The work at Heartbeat International and our affiliates is not over, and in fact, in many ways, is just beginning," said Boston, a graduate of
Evangel University
. "Women still need compassionate care and support, and we continue to be here to offer practical resources and life-affirming options throughout our network of pregnancy help, as we have been doing for more than 50 years."
Sheila L. Harper, founder of the AG abortion-recovery ministry
SaveOne
based in Hendersonville, Tennessee, likewise stressed that that the decision doesn't result in the end of abortion in America.
"Although overturning
Roe
is cause to celebrate, now each state is going to determine if and to what degree they will be voting to perform genocide on a class of people," said
Harper
, who noted that three SaveOne chapters have experienced domestic terrorism since the document leak. Save One has 353 chapters in 28 nations.
Harper
predicted there will be an increase in the number of chemical abortions, which already account for over half the abortions in the nation. Abortion pills — namely mifepristone (RU-486) for the first round and misoprostol for a required second dose — can be ordered over the internet.
"No doctor is needed to determine how far along the girl is, or even if there is an ectopic pregnancy, making this procedure very dangerous," Harper said. "The trauma is much greater with this type of abortion because the girl is performing an at-home abortion."
Harper is pleased there will be fewer abortions performed in the U.S.
"But it will mean far more women and men dealing with unplanned pregnancies, needing help and resources," Harper said. "I pray our churches will be the beacon of light in their communities for these often frightened individuals in need of care, mercy, love, and help. Foster care and adoption will need to be readily available in our churches, too."
Assemblies of God General Superintendent
Doug Clay
agreed that Christians must be prepared to offer life-affirming
alternatives to abortion
.
"I'm thankful to God for this historic day to celebrate life," Clay said. "It's not a day to gloat, but to rejoice and give thanks to the Lord of life. It's a day to continue our efforts in creating a culture of life in the communities we serve."
Before the Supreme Court ruling, the U.S. had been one of only seven countries that allow abortion on demand after the 20th week of gestation.