The Refugee Church Planter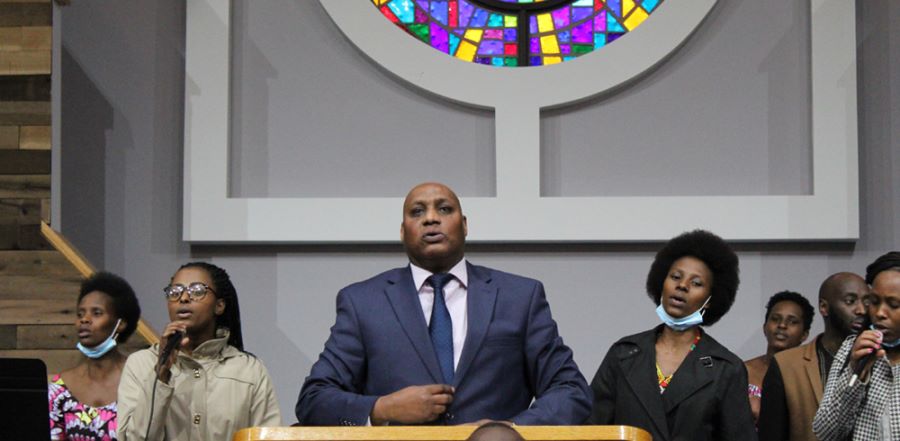 Don't miss any stories. Follow AG News!
An African refugee who fled the continent a decade ago is now an Assemblies of God church planter in Ohio.
Amon Kajabika earlier pastored a congregation of 4,000 in Rwanda and served as general secretary of an alliance of 7 million Pentecostals across eight African countries. In 2011, Kajabika attended a conference organized by Ronald L. Thorington, lead pastor of
Victory International Assembly of God
in Buffalo, New York. Kajabika, who spoke no English at the time, then sought asylum because of the unsafe conditions in returning to Rwanda. He received government permission two months later to stay in Dayton, Ohio.
Kajabika, 58, had been born the son of Pentecostal evangelists in the Democratic Republic of the Congo (DRC). His ancestors had been ethnic Tutsis from Rwanda. Kajabika and his family — his wife Debora Banyamulenge and their eight children, ages 2 months to 18 years — fled the DRC in 1995 because of civil war. They stayed in Rwanda the next 15 years, until Kajabika felt he needed to escape for his safety.
Meanwhile, his family fled to a Uganda as refugees, where they remained for the next 20 months. Kajabika, with the assistance of U.S. Sen. Sherrod Brown of Ohio, brought his family to the U.S. in 2013 following a laborious diplomatic process.
Soon afterward, Kajabika started holding church services in Dayton. Initially, Rehoboth met in a Baptist church, which evicted the renters from the building upon discovering the congregants spoke in tongues.
Kettering Assembly of God
then offered Kajabika a place to meet for services. Bruce D. Craig, then pastor of Kettering AG, had assisted Kajabika financially in efforts to provide for his refugee family.
Rehoboth International Church AG
began to grow, in part by attracting churchgoers who once lived in refugee camps in Kenya and Burundi, as well as immigrants from Rwanda. Kajabika found himself not only pastoring his flock, but trying to help them assimilate into U.S. culture: how to find a job, register children for school, obtain a driver's license. The biggest barrier for most refugees involved communicating, as none spoke English as their first language.
With Rehoboth's growing congregation, the Kettering AG gymnasium could no longer accommodate the number of attendees. Kajabika turned to
Ohio Ministry Network
(OMN) Assistant Superintendent Daniel R. Holbrook for advice.
After Holbrook's input, Rehoboth in 2019 purchased its own facilities, thanks to a $200,000 loan from
AG Financial Solutions
. Rehoboth bought a former private school with 34 rooms. Various walls have been removed, and the church now has a sanctuary, fellowship hall, children's ministry area, kitchen, and offices.
In January 2021, Rehoboth planted its first congregation, Harvest Assembly of God in Columbus, with assistance from
OMN Church Multiplication Network
Director Al Yanno. The church is comprised primarily of refugees from DRC, Rwanda, and Burundi. Congolese pastor Levis Kinihira spent many years in a refugee camp himself. Rehoboth is in the early stages of starting another congregation in Cincinnati, made up largely of French-speaking immigrants from Cameroon.
Today, the 250 adherents of Rehoboth originally came from DRC, Rwanda, Burundi, and Liberia — along with Black Americans. The Ohio Ministry Network is assisting with cultural assimilation of refugees. Holbrook saw Kajabika stretching himself too thin.
"He was having struggles with being everything to everyone," says Holbrook, 65. "He was the social worker, the lawyer, the doctor. He couldn't handle all the roles."
Holbrook, who
worked as a business executive
before a midlife switch to pastoring, has overseen the OMN's
Ohio for Jesus
strategy since its 2020 launch. He is enthusiastic about Kajabika's church planting vision.
"Those Christians coming to the U.S. see America as a mission field," Holbrook says. "Amon plans to start 10 churches in 10 years."
Kajabika indeed views his new homeland as ripe for evangelization from immigrants, but he says Africans need to be better assimilated first.
"We need more integration in the U.S.A. because everything for us looks new," says Kajabika, who became an American citizen in 2020. "We need help to be able to serve."
A major need is biblical training, he says, as most ministry-minded immigrants haven't attended Bible college. Rehoboth International Church has started a training center for ministers, missionaries, and evangelists. Kajabika says he knows 50 immigrants who are ready to launch congregations once they are equipped and receive ministerial credentials. Kajabika is working to start ESL classes at various OMN churches. Some of the prospective pastors already have started holding services.
Kajabika also is setting up an extension learning site at Rehoboth International Church for elementary through high schoolers to do homework, learn English, and receive tutoring. He says the pandemic caused many immigrant children to fall behind academically because they had difficulty learning remotely, both because of a poor grasp of English and a lack of computer technology skills.