Special Parenting Assignment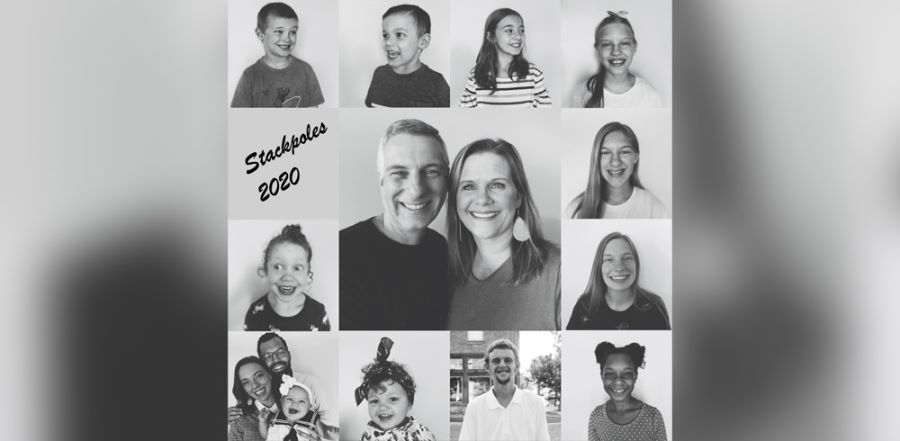 Don't miss any stories. Follow AG News!
When Ted and Angie Stackpole married, he wanted one child. No more. She wanted four. They compromised and now, after 27 years of marriage, they are the proud parents of 11. Their children, who range in age from 26 to 2, include five biological and six adopted.
They "blame" the church for growing their family through adoption. In 2012, several congregants at First Assembly of God in Palatka, Florida, where they served as lead pastors, asked the Stackpoles to start a support group for people who had adopted children. The following year, when they learned three church couples wanted to participate in a local foster care class, the Stackpoles agreed to join them "just to be a support," says Angie.
Instead they found themselves seriously considering the possibility of fostering. Putnam County, where they live, is one of the most impoverished in Florida.
"We thought we would be part of the solution someday, but we couldn't just sit by after we learned about the immense needs," she says. That same year, they received their foster parenting license and prepared to accept placements.
"I've always had a heart for children from hard places," says Angie, who also served as administrator at River Christian Academy, the school connected with the church. Ted considered the responsibility more from an intellectual side. He knew the command of James 1:27 to "look after orphans and widows in their distress."
"And mentally, I knew it was short term," he says. "We were going to help these kids until they could be reunified with their families."
By 2014, the opioid crisis exploded in the United States, leaving many children in need of a safe living environment. The foster system became overwhelmed. But with limited homes, foster supervisors called on Ted and Angie, writing a waiver to allow them to house more children.
"They didn't know where else to put these kids, who were sleeping in offices and hotels," Ted says. During that stretch, with Angie out of town visiting family, Ted received another call to take more children, which would put them at 11 children in their home. He agreed and immediately contacted a car dealership for a 15-passenger van so he could drive them all to school the next day.
Though Ted's heart expanded as he witnessed these children's needs and the effects of the trauma they'd experienced, it still surprised him when Angie mentioned the possibility of adopting. Suddenly the intellectual "safety" of caring for kids short term moved into the reality of committing to permanently safekeeping them.
When one of their placements, Nevaeh, became available for adoption, they both agreed to become her legal parents. In June 2016, they made it official. Nevaeh, 3, joined the family, which included biological children Victoria, already in college, as well as two high schoolers, Skyler and Jaycee, and their two youngest, Emilie and Baylee, ages 6 and 4 at the time.
As opportunities arose to provide forever homes to others, the Stackpoles continued to say yes. In November 2016, they adopted siblings Lyric, then 6, and Ezekiel, 4 at the time. In October 2017, they adopted siblings, 1-year-old Penelope and baby Theodore. Their most recent adoption, 2-year-old Everlee, became final in February 2019. Ted admits the decision to adopt hasn't always been easy.
"I'm turning 50 this year," he says. "And we're looking at least at 18 more years of parenting." Nevertheless, James 1:27 doesn't have an age restriction, he says. With 11 children, they finally believe their ministry is complete. Angie, 46, left her work at the school to devote time to being a mom, and Ted continued to serve at the church.
However, in October 2017, Ted felt God call him to take another risk. While listening to their new children's pastor preach one Sunday evening, he says he sensed the Holy Spirit telling him, I have a new plan for you. That purpose included quitting his pastoral role at First Assembly so he and Angie could pursue a different work with foster care, although at the time they didn't know exactly what.
They contacted COMPACT Family Services to see whether they could come alongside the child-welfare and family-services agency of the Assemblies of God. COMPACT had just launched a broader foster care program called CompaCare to include church education and training.
By April 2018, Ted and Angie became endorsed U.S. Missions chaplains on special assignment to COMPACT, where the bulk of their work is in training church leaders and establishing church foster care ministries. According to COMPACT, 30 to 50 percent of foster families quit within the first 12 months after their first placement.
"We meet a lot of those families who are discouraged because the experience overwhelms them and they don't have a lot of support," says Ted. "That's where the Church can step in and provide support and stability. That allows families to foster stronger and longer."
To that end, the Stackpoles are leading Project 18:36, in which they want to recruit churches to launch Christian foster care ministries in 18 churches over 36 months to directly impact 270 children.
"People often hear about these children and say, 'I could never do that,' but they can do something," says Angie. "These families need encouragement and assistance — and everybody can do that."
Jay Mooney, COMPACT's executive director, is thrilled to have the Stackpoles on board.
"Ted and Angie are not only passionate, they're experienced, faithful, competent, and smart about helping churches minister for the betterment of family and children," he says. "They're heroes."
But this isn't just foster care to the Stackpoles; this is about following the heart of God.
A year ago, Ted and one of his daughters were outside playing when she said, "Daddy, Daddy, thank you for adopting me!" He asked why she said that. "She told me, 'If you and Mom hadn't adopted me, I might not be in a home where I'm learning about Jesus,'" he says.
"Moments like that reassure us that even when we go through difficult times with the kids, Jesus is able to rewrite their lives," Ted says. The Stackpoles admit that only embracing that understanding can change the heart and mind to go from parenting one child to loving and parenting 11.