Church Ministers to Afghans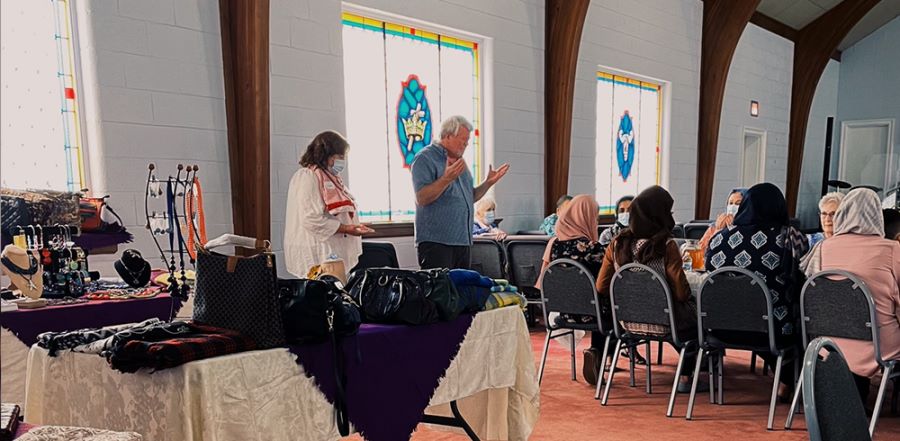 Don't miss any stories. Follow AG News!
For nearly five years,
River of Life Community Church
in Henrico, Virginia (a suburb of Richmond), has been offering ESL classes for a variety of people groups, including Afghans. And now, with Afghan refugees pouring into the community and country through a nearby military installation, God's preparation is clear to see.
Peyton Harris and his wife, Clover, have been ministering at River of Life since 2016. Prior to that, the couple served on the mission field in Central Eurasia for more than 20 years. Peyton Harris recalls that when they first opened the church up for ESL lessons, not everyone was agreeable to it.
"Initially, a few people did not appreciate the desire to reach out to internationals," he says. "They didn't understand it — we had Muslims, Buddhists, women wearing hajabs, and others coming into the church . . . but now everyone understands the importance of reaching out to the people from other nations, because they know how much people everywhere need Jesus."
Although River of Life is not a large church, averaging about 40 in attendance following the pandemic, the church has made a significant impact on the international community members through ESL.
"Just prior to COVID, we were working on a tea party (which is culturally significant) for the Afghan women and their daughters to attend," Harris says. "But then with COVID, we had to place that on hold."
However, the church recently revisited the tea party idea and Clover Harris had preparations well underway for the party when the situation in Afghanistan started to deteriorate rapidly and refugees began arriving.
"We decided not only to hold the tea party, but also do our best to provide for the needs of the refugees — many who were arriving with nothing more than the clothes on their backs," Peyton Harris says.
Through help from The Rise Church (also in Henrico), social media, phone calls, donations given by the church and other individuals and churches, and careful shopping, thousands of dollars' worth of new clothing, shoes, tea pots, phone chargers, diapers, and other needed items were purchased along with duffle bags and backpacks.
"As we were hosting the tea party, we were also sorting and boxing clothing for the refugees coming in," Harris says. "I only later learned that some of the women attending our tea party had only recently made it out of Afghanistan themselves as they had been visiting family and had trouble getting back."
Harris says that they were able to deliver 26 boxes of new clothing items and necessities to the chaplain at the military installation, who was deeply grateful for the gifts so desperately needed by the refugees. However, the real impact, the Harrises have come to realize, may have taken place back at the tea party.
"Those women and their daughters, they knew what we were doing was for the refugees," Harris says. "We never got to meet any of the refugees, but those attending the tea party will — they'll be the ones telling how it was the Christians who helped them."
And, Harris notes, among those from the church who serve and love on the Afghan women, is a gold-star mother — a mother whose son's life was lost in the fighting in Afghanistan.
Although ESL and the ministry events held over the last several years has not resulted in any Afghans choosing to accept Christ to this point, what Harris has noticed is that the daughters, who are fluent in English, have started asking questions concerning the differences in Islam and Christianity – seeds are being planted by both word and deed.
Harris was recently appointed the director of Intercultural Ministries for the Potomac Ministry Network. As such, he's begun the initial steps to bringing the network together in order to reach Afghans as so many are entering a very foreign land with little or no material goods and many challenges before them. And, as he observes, the American church has been given an opportunity to share the gospel with Afghans like never before.
"They are here — we can't turn our backs on them," Harris states. "We must be the body of Christ, we must show them the love of Jesus and we need to know how to share the love of Jesus in ways that they'll understand."