Light in a Dark Place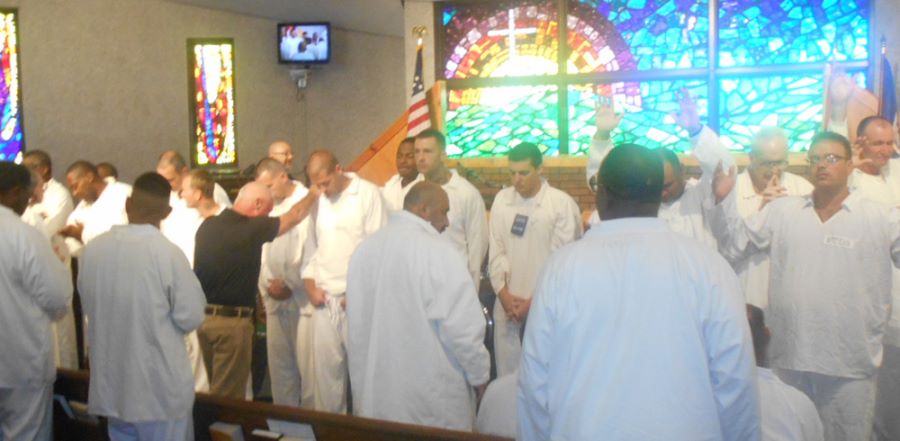 Don't miss any stories. Follow AG News!
An Assemblies of God U.S. Missions chaplain is credited for helping spark a spiritual awakening in the oldest and one of the largest prisons in Arkansas.
For the past nine years, Jim W. Babcock has been working at the Arkansas Department of Corrections maximum security prison in Gould, officially known as
Cummins Unit
. The penitentiary holds 1,650 inmates, 425 of them serving life sentences. A significant part of Babcock's job as a chaplain is delivering death messages — to an inmate about a relative or to a relative about an inmate.
Joshua K. Mayfield, administrator of Chaplaincy Services for the Arkansas Department of Corrections, notes that Babcock has provided stable leadership with great concern for both inmates and staff since becoming senior chaplain more than four years ago.
"He preaches, counsels, teaches, and prays," Mayfield says. "Under Jim's leadership, 'all-day prayer' has become a regular item on the Cummins chapel calendar."
Mayfield says Babcock's leadership is a chief cause for the spiritual awakening currently happening in the facility.
"Jim's love for Cummins Unit shows in his willingness to engage, intercede, and serve its staff and residents," Mayfield says.
Babcock, 60, is no stranger to the prison life. He is a former alcoholic and drug addict, as well as an ex-felon in Oregon and California. Babcock became a Christian 31 years ago.
Because he is an ex-offender, Babcock comprehends the mindset of the incarcerated men to whom he ministers.
"I understand the games and the way of prison life," Babcock says. "I am not intimidated by them.
Babcock, despite looking tough and sounding gruff, has the earned respect of prisoners. He, in kind, shows kindheartedness toward them.
"My compassion comes from knowing how they feel and my understanding that no matter the crime, Jesus can free them," Babcock says.
Babcock has learned that how he conveys messages can change an inmate's attitude toward him and God.
"I must live out the Word I am preaching," Babcock says. "I can tell an inmate that Jesus loves him and can change him, but showing him that walk daily is what really works more than anything else."
Chaplain Daniel Odean,
Correctional Ministries
representative for AG U.S. Missions Chaplaincy Ministries, says Babcock represents authentic Christianity to the inmates.
"Chaplain Jim is a man called of God to bring compassion and hope to hurting and lost people in prison of whom Jesus identified as 'the least of these' in Matthew 25:40,"
Odean
says. "Jim courageously carries the light of Jesus Christ in a very dark place, providing pastoral direction and leadership to those seeking after God."
Bringing the hope of Jesus Christ while ministering in a maximum security prison can be challenging. Chaplains preach from the pulpit to the Cummins inmates and teach them via the faith-based Principle and Application for Life program implemented by U.S. Missions Chaplain
Bob C. Holyfield
, who is based in Little Rock.
"We learn to deal with master manipulators who are always playing games and wanting us to break policy," says Babcock, who recently served as clergy representative at four executions. "We counsel with inmates daily over grief and other problems they may have."
Those serving life sentences are easiest to get along with, Babcock maintains, while the younger inmates are hardest. Still, he notes that many of the guards need the Lord in their lives just as much as those behind bars do.
Since arriving at Cummins in 2010, Babcock has led men to salvation in Christ in his office while counseling, from the pulpit while preaching, and in cells during lockdown.
Babcock recently resigned from pastoring Calvary Assembly of God, a small congregation in Star City, Arkansas, to focus exclusively on prison ministry.
"The men feel God is going to do great things at Cummins and I need to lead the way," Babcock says.